About the Journal
KnowEx Social Sciences is a peer-reviewed open-access journal that publishes disciplinary, interdisciplinary, and trans-disciplinary research in diverse areas under Social Sciences. The journal provides an opportunity for undergraduate students, post-graduate students, researchers, academics, professionals to publish their research outcomes.
Contributions (research papers, short communications, and review articles) are welcome from all fields which have relevant and insightful comments to make about the social sciences.
ISSN 2705-9901 (Online)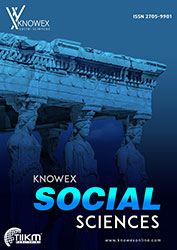 The 2nd issue of KnowEx Social Sciences Journal contains the research articles related to various fields in social sciences such as media, communication, women studies, gender studies, arts and humanities, and laguages etc.