About the Journal
KnowEx Management is a peer-reviewed open-access journal that publishes disciplinary, interdisciplinary, and trans-disciplinary research in diverse areas under management. The journal provides an opportunity, especially for undergraduate, and post-graduate students and other researchers to publish their research outcomes.
Contributions (research papers, short communications, and review articles) are welcome from all fields which have relevant and insightful comments to make about the management studies.
The journal's entire review process will take 21-28 days from the initial submission to the final decision. Acceptance notification will be informed to the author within 30 working days from the initial submission. 
ISSN 2673-1010 (Online)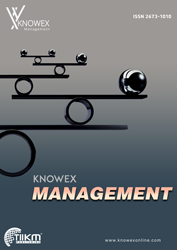 KnowEx Management
Vol. 1 No. 01 (2021):
KnowEx Management journal, which was inaugurated with the aim of providing an Open Access publishing platform for emerging young scholars in the field of Management and related sub-fields is delighted to publish its inaugural issue.