The Condescending and Misogynistic Portrayal of Women in Media
misogynistic, portrayal, media, colourism, patriarchy, gender, sexual objectification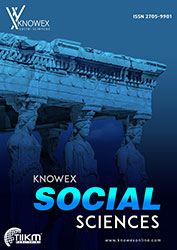 Downloads
License
Copyright (c) 2021 A Bordoloi, SP Srimathi
This work is licensed under a Creative Commons Attribution 4.0 International License.
The sexual objectification of women in media, and their portrayal, strictly adhering to gender roles is rampant, even in today's day and age. This needs to be investigated and deliberated upon, to shed light on how patriarchal notions dominate society, until this date. The way, in which women have been represented across media platforms, ranging from movie posters, movies to even television advertisements, has an immense impact on the viewer, even if it may be a negative one.
Feminist Research Methodology will be used with an experiential and analytical study of secondary sources of information such as movies and magazines. This methodology is used, to explain phenomena from the perspective of the woman, thus emphasizing the experiential analysis method. The research is grounded on feminist values and beliefs and addresses the problems of gender inequality and sexual objectification of women.  The paper would examine the topic on the condescending and misogynistic portrayal of women in the media.
The hypothesis would be that the effects of the portrayal of women through a misogynistic and condescending lens in the media could impact and influence the perception and beliefs of the viewer and consumers. The research aims to understand how Patriarchy still has a massive influence on the sexual objectification and oppression of women through concepts such as the male gaze. The problems of colorism, wooing of women in Bollywood, targeted advertisements that reinforce gender roles and the portrayal of women in pornography will be explored.
The outcome of the research would be an increased awareness as to how viewers and consumers of media internalize gender roles and mindlessly propagate such ideals of sexually objectifying women's bodies and other similar concepts such as social comparison and the effect on women's self-esteem due to narrow beauty standards. The research would also be helpful in guiding creators and influencers to represent both the sexes equally with the same respect and dignity.
Bordoloi, A., & Srimathi, S. (2021). The Condescending and Misogynistic Portrayal of Women in Media. KnowEx Social Sciences, 1(02), 1–10. https://doi.org/10.17501/27059901.2020.1201
Loreck, J (2016) Explainer: What does the 'male-gaze' mean, and what about a female gaze? Retrieved from https://theconversation.com/explainer-what-does-the-male-gaze-mean-and-what-about-a-female-gaze-52486
Patowary, Himashree. (2014). Portrayal of Women in Indian Mass Media: An Investigation.https://www.researchgate.net/publication/333036807_Portrayal_of_Women_in_Indian_Mass_Media_An_Investigation
Mishra, Deepanjali. (2015). PORTRAYAL OF WOMEN IN MEDIA. Journal of Higher Education and Research Volumehttps://www.researchgate.net/publication/284431132_PORTRAYAL_OF_WOMEN_IN_MEDIA/citation/download
Greenfield, Savannah, "When Beauty is the Beast: The Effects of Beauty Propaganda on Female Consumers" (2018). Theses/ Capstones/Creative Projects. 20. https://digitalcommons.unomaha.edu/university_honors_program/20
Sibal, Vatika. (2018). STEREOTYPING WOMEN IN INDIAN CINEMA. Scholarly Research Journal for Interdisciplinary Studies. 5. 10.21922/srjis.v5i43.11253. https://www.researchgate.net/publication/323786469_STEREOTYPING_WOMEN_IN_INDIAN_CINEMA
Harrison, M., Thomas K, M (2009) The Hidden Prejudice In Selection : A Research Investigation on skin-colour bias. https://onlinelibrary.wiley.com/doi/abs/10.1111/j.1559-1816.2008.00433.x
Mishra, Deepanjali. (2015). PORTRAYAL OF WOMEN IN MEDIA. Journal of Higher Education and Research. Volume 3. https://www.researchgate.net/publication/284431132_PORTRAYAL_OF_WOMEN_IN_MEDIA/citation/download
Slatewala, Zahabia Z. (2019), "Objectification of Women in Bollywood Item Numbers" . Graduate Theses and Dissertations. https://scholarcommons.usf.edu/cgi/viewcontent.cgi?article=9145&context=etd
Tere, N.S (2005), "Gender Reflections in Mainstream Hindi Cinema" Global Media Journal – Indian Edition/ISSN 2249-5835 Sponsored by the University of Calcutta/ www.caluniv.ac.in Summer Issue / June 2012 Vol. 3/No.1. Retrieved from https://www.caluniv.ac.in/global-mdia-journal/Students%27%20Research/SR4%20NIDHI.pdf
Advocacy Initiatives: Dark is Beautiful. Retrieved from https://www.darkisbeautiful.in/advocacy/
Lakshmi, R (2015), A man in Australia accused of stalking women blamed it on women. His case was dismissed. https://www.washingtonpost.com/news/worldviews/wp/2015/02/02/a-man-in-australia-accused-of-stalking-women-blamed-it-on-bollywood-his-case-was-dismissed/
Jensen, R. (2019), Radical Feminism is a gift to men, TedXRuhrUniversityBochum. Retrieved from https://youtu.be/Mi5TG3E4rnE
absolutely bizarre Indian movie scenes that will leave you speechless. Tried and Refused Productions (2021). Retrieved from https://youtu.be/rBBvZ1ZlHKU
Regressive and Shocking Indian movie moments that everyone ignored. Tried and Refused Productions, (2018). Retrieved from https://youtu.be/9VLxhDqcofk