THE AUDIENCE IS DIFFERENT FROM WHAT YOU THINK! LIVE AUDIENCE'S RESEARCH ON THE SOCIAL IDENTITY, AFFECTIVE COMMITMENT AND SUPPORT RELATIONSHIP OF E-SPORTS STREAMER
E-sports industry, social identity, affective commitment, support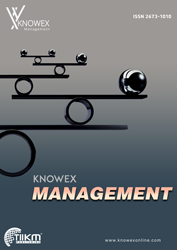 Downloads
The purpose of this research is to explore live stream for streamer Relationship between social identity and affective commitment and support. In this research, questionnaire, and using purposive sampling method,Data collected from 500 participants in the War Force 2018 E-sports Carnival in Taiwan for effective questionnaires,A total of 461 valid samples were recovered from this research.,The proportion of women who answered the questionnaire was 188, accounting for 25.6%. There are 343 males, accounting for the age is mostly 16-25 years old, accounting for 54.1% of the sample. This research used forced regression to analyze the relationship between variables. The research results include: 1. social identity is an important factor affecting affect commitment and support。2. social identity is only the emotional commitment of the Live audience and the hygiene factor of the support 3. The more the live audience agrees in emotional psychology, the higher the support. Finally, this research proposes relevant conclusions and recommendations for streamer, E-sports live stream, and live audience.
Wu, B.- lin, Chang, M.-C. ., Yang, F.-Y. ., & Hong, F.-Y. (2021). THE AUDIENCE IS DIFFERENT FROM WHAT YOU THINK! LIVE AUDIENCE'S RESEARCH ON THE SOCIAL IDENTITY, AFFECTIVE COMMITMENT AND SUPPORT RELATIONSHIP OF E-SPORTS STREAMER. KnowEx Management, 1(01), 11–21. https://doi.org/10.17501/26731010.2021.1102
Becker, T. E. (1992). Foci and bases of commitment: Are they distinctions worth making?. Academy of management Journal, 35(1), 232-244.
Becker, T. E., Billings, R. S., Eveleth, D. M., & Gilbert, N. L. (1996). Foci and bases of employee commitment: Implications for job performance. Academy of management journal, 39(2), 464-482.
Becker, T. E., Randall, D. M., & Riegel, C. D. (1995). The multidimensional view of commitment and the theory of reasoned action: A comparative evaluation. Journal of Management, 21(4), 617-638.
Buchanan, B. (1974). Building organizational commitment: The socialization of managers in work organizations. Administrative science quarterly, 533-546.
C.G.Jung 1921/1938 Psychological Types [H.G.Baynes translation] Kegan Paul Trench Trubner & Co
Cattell, 1973. R.B. Cattell , Personality and Mood by Questionnaire. , Jossey-Bass, San Francisco
Cuieford, J. P. 1965 . Fundamental statistics in psychology and education. New York: McGraw Hill.
Easy Sports (2015). The development direction of the e-sports industry: Five issues that should be resolved in 2016.
Han Huilin, Wang Guimin, Zheng Weilan, Lin Kailing, Liu Weicheng, Lin Zonglian 2014, Evaluation of key failure factors of e-sports games.r, H. S.(1960). "Note on the Concept of Commitment," American Journal of Sociology, 97, 15-22.
Haozheng Qiu. (2011). Quantitative research and statistical analysis. Taipei City: Wunan Bookstore
Jiayu Li. (2016). The impact of e-sports on the gaming industry.
Mowday, R. T., Steers, R. M., & Porter, L. W. (1979). The measurement of organizational commitment. Journal of vocational behavior, 14(2), 224-247.
Peihao Xu (2014). Research on the cross-strait e-sports industry (2011 ~ 2013)-an examination based on the theory of national competitive advantage.
Qian Simin. (2015). E-sports career opportunities, do you see it?. Digital age
Qiu Haozheng (2002). Quantitative research and statistical analysis. Taipei City: Wunan Book Company.
Sheldon, M. E. (1971). Investments and involvements as mechanisms producing commitment to the organization. Administrative science quarterly, 143-150.
Tajfel, Henri , Michael, Billig , R., Bundy and Claude, L. Flament , 1971, "Social Categorization and Inter-Group Behavior". European Journal of Social Psychology , 1 (2) , 149–178. DOI:10.1002/(ISSN)1099-0992.
Tajfel, Henri 1974, "Social Identity and Intergroup Behaviour". Social Science Information , 13 , 65–93. DOI:10.1177/053901847401300204.
Tajfel, Henri and John C. Turner. (1986), The Social Identity Theory of Intergroup Behavior. In Psychology of Intergroup Relations, by S. Worchel and W. Austin (Eds.):7-24,Chicago, IL: Nelson-Hall.
Tajfel, Henri, and John C. Turner. (1979). An Integrative Thoery of Intergroup Behavior. In The Psychology of Intergroup Relations, ed. Stephen Worchel and William Austin: 33-47.
Turner, John C. (1975). "Social comparison and social identity:Some prospects for intergroup behavior". European Journal of Social Psychology, 5 (1) , 5–34. Engineering, 14(2), 123-147.
Wei Bingren. (2018). Thesis Research Institute of Journalism, Taiwan University; 1-107
Wiener, Y. (1982). Commitment in organization úa normative view. Academy of management review, 7, 418-428.
Ye Xiaoqian. (2018), Taiwan Economic Research Monthly; 41(9), 121-128.
Zeng Guanghua. (2007), Service industry sales, Taiwanese: Future culture.
Zhang Yukai. (2015). E-sports product value chain survey analysis-Application of ANP analysis network program method.
Zhou Ding and Hong Shengyi (2015). The road to e-sports (middle): After the e-sports rectified, the problem really began.