IMPACTS OF DIFFERENT CONCENTRATIONS AND TIMES OF APPLICATION OF CHITOSAN ON SWEET BASIL (Ocimum basilicum L.)
dry weight, fresh weight, physiology, sweet basil, yield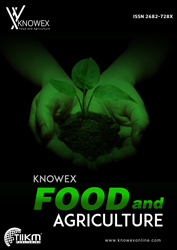 Downloads
License
Copyright (c) 2021 KnowEx Food & Agriculture
This work is licensed under a Creative Commons Attribution 4.0 International License.
Sweet basil is one of the popular herbs that contains various types of antioxidants and is widely used in pharmaceutical, food and cosmetic industries. Although sweet basil is considered as an easy and fast-growing herb, yet, the production is still insufficient to cater to the rising demand. Thus, the aim of this study is to increase biomass of sweet basil by the application of chitosan at different timing. The experiment was arranged in Randomized Complete Block Design with four replications. Plants were treated with different concentrations of chitosan (0, 2, 4 and 6 ml/L) at three different times of application (20, 40 and 20+40 days after transplanting), and kept for 60 days under open field. Data was analysed by using Statistical Analysis Software (version 9.4), Analysis of Variance was used and means were separated using Least Significant Differences. Based on the findings, all treated plants showed greater value compared to the control treatment. Among the treatments, it was found that plants treated with 4 ml/L at 20 days after transplanting performed the best where the plants reached highest stem fresh weight (44.59 g/plant), root dry weight (2.83 g/plant), leaf fresh weight (54.28 g/plant) and leaf dry weight (8.80 g/plant). The yield was higher than control treatment at 43.45% and 59.71% based on its leaf fresh weight and leaf dry weight, respectively. Therefore, it is recommended for sweet basil to be treated with 4 ml/L at 20 days after transplanting. Besides, more details study on compound profiling and its fraction from sweet basil leaf extract can be conducted in the future.
Qazizadah , A. Z., Nakasha, J. J., Sinniah, U. R., & Wahab, P. E. M. (2021). IMPACTS OF DIFFERENT CONCENTRATIONS AND TIMES OF APPLICATION OF CHITOSAN ON SWEET BASIL (Ocimum basilicum L.). KnowEx Food and Agriculture, 2(01), 10–19. https://doi.org/10.17501/2682728X.2021.2102
Abdel-aziz, H. M. M. (2019). Effect of Priming with Chitosan Nanoparticles on Germination, Seedling Growth and Antioxidant Enzymes of Broad Beans. Egypcian Society for Environmental Science Effect 18 (1), 81–86. DOI: 10.12816/cat.2019.28609
Abdel-Mawgoud, A. M. R., Tantawy, A. S., El-Nemr, M. A., & Sassine, Y. N. (2010). Growth and yield responses of strawberry plants to chitosan application. European Journal of Scientific Research, 39(1), 170-177. DOI: https://www.researchgate.net/publication/287681481
Ahmad, B., Khan, M. M. A., Jaleel, H., Sadiq, Y., Shabbir, A., & Uddin, M. (2017). Exogenously sourced γ-irradiated chitosan-mediated regulation of growth, physiology, quality attributes and yield in Mentha piperita L. Turkish Journal of Biology, 41(2), 388-401. DOI: https://10.3906/biy-1608-64
Akula, R., & Ravishankar, G. A. (2011). Influence of abiotic stress signals on secondary metabolites in plants. Plant signaling & behavior, 6(11), 1720-1731.DOI: https://doi.org/10.4161/psb.6.11.17613
Anusuya, S., & Sathiyabama, M. (2016). Effect of chitosan on growth, yield and curcumin content in turmeric under field condition. Biocatalysis and agricultural biotechnology, 6, 102-106. DOI: http://dx.doi.org/10.1016/j.bcab.2016.03.002
Becker, T., Schlaak, M., & Strasdeit, H. (2000). Adsorption of nickel (II), zinc (II) and cadmium (II) by new chitosan derivatives. Reactive and Functional Polymers, 44 (3), 289-298. DOI: https://doi.org/10.1016/S1381-5148(99)00104-2
Bucktowar, K., Bucktowar, M., & Bholoa, L. D. (2016). A review on sweet basil seeds: Ocimum basilicum. World Journal of Pharmacy and Pharmaceutical Sciences, 5(12), 554-567. DOI: https://www.wjpps.com/Wjpps_controller/abstract_id/6261
Ch, M. A., Naz, S. B., Sharif, A., Akram, M., & Saeed, M. A. (2015). Biological and pharmacological properties of the sweet basil (Ocimum basilicum). Journal of Pharmaceutical Research International, 330-339. DOI: https://10.9734/BJPR/2015/16505
Costa, D. C., Costa, H. S., Albuquerque, T. G., Ramos, F., Castilho, M. C., & Sanches-Silva, A. (2015). Advances in phenolic compounds analysis of aromatic plants and their potential applications. Trends in Food Science & Technology, 45 (2), 336-354. DOI: https://doi.org/10.1016/j.tifs.2015.06.009
Emami-Bistgani, Z. E., Siadat, S. A., Bakhshandeh, A., Pirbalouti, A. G., & Hashemi, M. (2017). Interactive effects of drought stress and chitosan application on physiological characteristics and essential oil yield of (Thymus daenensis Celak.). The Crop Journal, 5 (5), 407-415. DOI: https://doi.org/10.1016/j.cj.2017.04.003
Falcón-Rodríguez, A., Costales, D., Peña, D. G., Morales, D., Mederos, Y., Jerez, E., & Pino, J. C. (2017). Chitosans of different molecular weight enhance potato (Solanum tuberosum L.) yield in a field trial. Spanish journal of agricultural research, 15(1), 25. DOI: 10.5424/sjar/2017151-9288
Filip, S. (2017). Basil (Ocimum basilicum L.) a source of valuable phytonutrients. International Journal of Clinical Nutrition & Dietetics, Volume 3. 118. DOI: https://doi.org/10.15344/2456-8171/2017/118
Ghasemzadeh, A., Ashkani, S., Baghdadi, A., Pazoki, A., Jaafar, H. Z., & Rahmat, A. (2016). Improvement in flavonoids and phenolic acids production and pharmaceutical quality of sweet basil (Ocimum basilicum L.) by ultraviolet-B irradiation. Molecules, 21 (9), 1203. DOI: https://10.3390/molecules21091203
Iglesias, M. J., Colman, S. L., Terrile, M. C., Paris, R., Martín-Saldaña, S., Chevalier, A. A., ... & Casalongué, C. A. (2019). Enhanced Properties of Chitosan Microparticles over Bulk Chitosan on the Modulation of the Auxin Signaling Pathway with Beneficial Impacts on Root Architecture in Plants. Journal of agricultural and food chemistry, 67(25), 6911-6920. DOI: https://10.1021/acs.jafc.9b00907
Katiyar, D., Hemantaranjan, A., & Singh, B. (2015). Chitosan as a promising natural compound to enhance potential physiological responses in plant: a review. Indian Journal of Plant Physiology, 20 (1), 1-9. DOI: https://10.1007/s40502-015-0139-6
Khalafi, M. (2019). The effect of chitosan on regeneration and secondary metabolites of three lily Species (M. Sc. dissertation, University of Mohaghegh Ardabili). Official URL: http://uma.ac.ir/
Khan, R., Manzoor, N., Zia, A., Ahmad, I., Ullah, A., Shah, S. M., Naeem, M., Ali, S., Khan, H. I., Zia, D., & Malik, S. (2018). Exogenous application of chitosan and humic acid effects on plant growth and yield of pea (Pisum sativum). International Journal of Biosciences, Vol. 12, No. 5, p. 43-50. DOI: http://dx.doi.org/10.12692/ijb/12.5.43-50
Khan, T., Khan, T., Hano, C., & Abbasi, B. H. (2019). Effects of chitosan and salicylic acid on the production of pharmacologically attractive secondary metabolites in callus cultures of Fagonia indica. Industrial Crops and Products, 129, 525-535. DOI: https://doi.org/10.1016/j.indcrop.2018.12.048
Koca, N., & Karaman, Ş. (2015). The effects of plant growth regulators and L-phenylalanine on phenolic compounds of sweet basil. Food chemistry, 166, 515-521. DOI: http://dx.doi.org/10.1016/j.foodchem.2014.06.065
Kőszeghi, S., Bereczki, C., Balog, A., & Benedek, K. (2014). Comparing the effects of benzyladenine and meta-Topolin on sweet basil (Ocimum basilicum) micropropagation. Notulae Scientia Biologicae, 6 (4), 422-427. DOI: https://10.1583/nsb649464
Lopez-Moya, F., Suarez-Fernandez, M., & Lopez-Llorca, L. V. (2019). Molecular mechanisms of chitosan interactions with fungi and plants. International journal of molecular sciences, 20(2), 332. DOI: https://doi.org/10.3390/ijms20020332
Malerba, M., & Cerana, R. (2018). Recent advances of chitosan applications in plants. Polymers, 10 (2), 118. DOI: https://10.9734/BJPR/2015/16505
Masjedi, M. H., Roozbahani, A., & Baghi, M. (2017). Assessment Effect of Chitosan Foliar Application on Total Chlorophyll and Seed Yield of Wheat (Triticum aestivum L.) Under Water Stress Conditions. Journal of Crop Nutrition Science, 3(4), 14-26. DOI: http://jcns.iauahvaz.ac.ir/article_543135.html
Mith, H., Yayi-Ladékan, E., Sika Kpoviessi, S. D., Yaou Bokossa, I., Moudachirou, M., Daube, G., & Clinquart, A. (2016). Chemical composition and antimicrobial activity of essential oils of Ocimum basilicum, Ocimum canum and Ocimum gratissimum in function of harvesting time. Journal of Essential Oil Bearing Plants, 19 (6), 1413-1425. DOI: https://10.1080/0972060X.2014.890076
Mondal, M. M. A., Malek, M. A., Puteh, A. B., Ismail, M. R., Ashrafuzzaman, M., & Naher, L. (2012). Effect of foliar application of chitosan on growth and yield in okra. Australian Journal of Crop Science, 6 (5), 918. https://search.informit.com.au/documentSummary;dn=733141128864486;res=ielhss
Mondal, M. M. A., Rana, M. I. K., Dafader, N. C., & Haque, M. E. (2011). Effect of foliar application of chitosan on growth and yield in Indian spinach. J. Agrofor. Environ, 5(1), 99-102. DOI: https://pas.cseas.kyoto-u.ac.jp/activity/HP_SPIRITS/Brahmaputra/data/JAE_ALL/ASFBpdf/9.AFSB5(1)pdf/23.%20MMA%20Mondal.pdf.
Murali, M., & Prabakaran, G. (2018). Effect of Different Solvents System on Antioxidant Activity and Phytochemical Screening in Various Habitats of Ocimum basilicum L. (Sweet basil) Leaves. International Journal of Zoology and Applied Biosciences, 3, 375-381. DOI: https://doi.org/10.5281/zenodo.1439290
Nuengjamnong, C., & Angkanaporn, K. (2018). Efficacy of dietary chitosan on growth performance, haematological parameters and gut function in broilers. Italian Journal of Animal Science, 17(2), 428-435. https://doi.org/10.1080/1828051X.2017.1373609
Ohta K, Morishita S, Suda K, Kobayashi N, Hosoki T, 2004. Effects of chitosan soil mixture treatment in the seedling stage on the growth and flowering of several ornamental plants. J Japan Soc Hort Sci 73: 66-68. https://doi.org/10.2503/jjshs.73.66
Pereira, D. M., Valentão, P., Pereira, J. A., & Andrade, P. B. (2009). Phenolics: From chemistry to biology. Molecules, 14, 2202-2211. DOI: https://10.3390/molecules14062202
Sae-Lee, N., Kerdchoechuen, O., Laohakunjit, N., Thumthanaruk, B., Sarkar, D., & Shetty, K. (2017). Improvement of Phenolic Antioxidant-linked Cancer Cell Cytotoxicity of Grape Cell Culture Elicited by Chitosan and Chemical Treatments. HortScience, 52 (11), 1577-1584. DOI: https://10.21273/HORTSCI12248-17
Salehi, S., & Rezayatmand, Z. (2017). The effect of foliar application of chitosan on yield and essential oil of savory (Saturejaisophylla L.) under salt stress. Journal of Herbal Drugs (An International Journal on Medicinal Herbs), 8(2), 101-108. DOI: https://10.18869/JHD.2017.101
Shang, Y. L., LI, C. X., Shao, Y., & Jiang, L. N. (2004). Comparison of dynamics and functions of endogenous IAA, CTK content among main crops of gramineae at early growing stage [J]. Acta Agriculturae Boreali—Sinica, 4. DOI: http://en.cnki.com.cn/Article_en/CJFDTotal-HBNB200404013.htm
Sheikha, S. A., & Al-Malki, F. M. (2011). Growth and chlorophyll responses of bean plants to the chitosan applications. European Journal of Scientific Research, 50 (1), 124-134. ISSN 1450-216X
Slougui, N., Tlili, A., Hammoudi, R., Bentayeb, H., Mahammed, M. H. (2018). Composition of essential oil of Ocimum basilicum L., minimum and variability in antioxidant activity of essential oil of leaves and flowering tops of Ocimum basilicum L. Genovese following seasons of culture under arid climate (southeast of Algeria). International Journal of Biosciences, Vol. 12, No. 4, p. 370-382. DOI: http://dx.doi.org/10.12692/ijb/12.4.370-382